NEWS AND UPDATES
09/13/20

Another Kind Comment

Another shout out to you for your great service!
Comment Box On Order
C. Smith

Please keep your comments coming. We appreciate them.

Shipping Delays

What a mess!

It seems that Fedex Ground is experiencing shipping delays again this week that began the Friday before Labor Day.

The daily order we placed with the Milwaukee warehouse for our customer orders placed from 6am Thursday to 6am Friday was processed by the warehouse per normal, but it seems that Fedex did not pickup from the warehouse Friday night or over the weekend. They picked up the shipment Tuesday at 12am.

So the expected delivery to BRH on Tuesday did not occur until Thursday of this week putting BRH behind two days!

Also, orders from 6am Friday until 6am Tuesday did not process through the Milwaukee warehouse at all yesterday so we do not expect these orders to arrive until Monday or Tuesday at this point. So there was no outbound shipments from BRH to you all on Wednesday or Thursday of last week due to these issues.

The shipments we did receive where split. Some arrived late Saturday the 12th and have been sorted and ready for shipment on Monday the 14th. So, hopefully it will all straighten out by Tuesday.

Needless to say, the whole system is messed up and BRH has no control over the inbound shipping delays.

So as I have be preaching since the Covid-19 situation started back in March, please be patient! I am working as fast as I can to get your orders processed.

Can't wait to see how messed up things get for the holidays!

Upcoming Order Deadlines

September 15: Bowser Preorders
September 17: Broadway Limited Preorders
September 15: Rapido Trains Preorders
September 30: Walthers Preorders
October 31: Trainworx Preorder

Power Your DCC with New Throttles from Digitrax

With modelers heading back to the basement and starting to run trains, be sure to have the DT602 Advanced Super Throttle from Digfitrax on hand! With a host of new features and improvements in both standard (in stock)and radio (coming soon) versions, these are sure to be in demand as modeling season starts and make great gift suggestions in the coming weeks.
CLICK HERE TO ORDER THE THROTTLE

New Atlas Releases

Modelers are always excited to see what's new, and turning browsers into buyers is easy with new HO Scale GE Dash-8 locos, and N Scale FMC 5077 50' Double-Door Boxcars! Quantities on all of these models are extremely limited, so order now!

This run of layout-ready locos includes both the early standard cab 8-40C in several short line schemes and the later wide cab 8-40CW decorated for popular roads. Both are packed with details
and available in ESU sound and standard DC versions.

CLICK HERE TO ORDER THE DASH 8's

Great for all kinds of N Scale freight service, the FMC double-
door boxcars come fully assembled and finished in eye-catching
short line and railroad-owned schemes.

CLICK HERE TO ORDER THE BOXCARS

WALTHERS 2021 REFERENCE BOOK




EXPECTED LATE OCTOBER
2021 WALTHERS HO / N REFERENCE BOOK
JUST $15.90

CLICK HERE TO ORDER THE REFERENCE BOOK
There will not be any Behind The Counter / News and Updates the next two weeks.
It will return October 4th.
---
09/06/20
Happy Labor Day!

Another Kind Comment

I wanted to say thank you. You do a great job and I couldn't be happier with BRH. I always find what I need and in my opinion you ship it pretty fast.
Comment Box On Order
J. McMullen

August Sales

Again sales where up! August 2019 vs 2020 up 9.7% best August since 2013 and year to date 2019 vs 2020 up 9.4%
Year to date new customers up 13%, Returning customers up 101%, Receipt totals up 13%, Daily totals up 4%and Items sold up 17%.

At this early point in September sales are up as well as more product that had delayed arrivals due to Convid 19 shipping delays, is helping but inventories are selling out fast as we move into prime model railroading season. So think ahead and order what you need now!

Fedex Delivery Schedule

As of this weekend we are now getting Fedex deliveries 7 days a week for the first time in 16 years. This delivery schedule change was done due to the higher volume of business we are currently experiencing. This change will hopefully speed up the shipping process for all outbound shipments to you all as we approach the busy season.

So this means we will be shipping 6 days a week as needed.

Unfortunately, this week we lose a day of shipping and processing orders because of Labor Day.
Again, please be patient as we work as fast as we can to fill your orders!

Upcoming Order Deadlines

September 10: Broadway Limited Preorders
September 15: Bowser Preorders
September 17: Broadway Limited Preorders
September 15: Rapido Trains Preorders
September 30: Walthers Preorders
October 31: Trainworx Preorders

Cornerstone HO Steel Mill Structures Now Shipping

Steel mills are big business for every HO railroad and modelers of the steel industry are flocking to our website to get Cornerstone steel series structures. The Blower Engine House, Rolling Mill and Electric Furnace are now available both online and in the retail store so you can get started on your steel mill layout. Other steel mill kits
are still in transit. The buildings are also designed for easy customization to fit layout scenes or for use as other industrial buildings such as those found at copper smelters and large foundries. Also available WalthersMainline and WalthersProto gondolas, coil cars, flatcars and switchers.
Get them on your layouts now!

CLICK HERE TO ORDER THE BLOWER ENGINE HOUSE
CLICK HERE TO ORDER ROLLING MILL
CLICK HERE TO ORDER ELECTRIC FURNACE

New HO Walthers Track Accessories Now Shipping

With many Walthers Track products scheduled to arrive next month to replace the Walthers Shinohara Code 83,
a few smaller accessories are now available. Track Nails, Bridge Track End Piece Set and the Code 100 to Code 83 Transition Track section have arrived for online and retail store sales. These three products will be in big demand as modelers begin to add Walthers Track flex track and turnouts to their railroad. Track Nails and the Transition Track will also be usable by modelers using other track systems. Check out the arrivals and Code 83 track line at the link and order now.

CLICK HERE TO ORDER WALTHERS TRACK
Walthers SceneMaster HO Semi Trailers Keep Sales Trucking Along

The 40' Trailmobile Trailer was a standard intermodal trailer used for railroad intermodal service as well as for highway trucking from coast to coast. The new SceneMaster 40' 1970s-style Trailmobile Dry Van 2-Packs is ideal for modelers of the 1970s and 1980s. They'll use them for vintage trailer-on-flatcar (TOFC) service and HO highways. Additionally, in the modern era many of these trailers have gone on to second lives in railroad
maintenance service, short-haul delivery service and private business storage, so they'll appeal to modern-era modelers too. In the modern era many of these trailers have gone on to second lives in railroad maintenance service, short-haul delivery service and private business storage, so they'll appeal to modern-era modelers too.
CLICK HERE TO ORDER TRAILMOBILE TRAILERS
Broadway Limited Announces New HO Cab Forwards & PRR P70s

The 4-8-8-2 Cab Forward was one of Southern Pacific's trademark steam locomotives that's a must-have for steam-era modelers. With the cab in front, these "backwards" engines allowed crews better visibility and crews enjoyed a relatively smoke-free run through the SP's many tunnels in California and Oregon. New Cab Forwards
are coming with Paragon3(R) sound and DCC, compatible with Rolling Thunder(R) sound systems. They'll also run on standard DC systems with limited sound function. AC4 and AC5 versions are available for preorder now for delivery later this fall. The Pennsylvania Railroad is one of the most modeled railroads in North America, and for steam and early-diesel-era modelers the heavyweight P70 coach is a must-have since they operated in most PRR passenger trains. A new run of these super-popular cars has been announced with cars available individually and in two-packs.
In addition, several fantasy/what-if schemes and a Christmas car have also been announced. The fantasy cars are actually decorated for railroads which operated very similar coaches, so these will appeal to customers looking for high-end heavyweight cars. The Christmas car complements other holiday locomotives produced by
Broadway Limited in recent years. All of these models are limited run - reserve Cab Forwards by September 10th and P70s by September 17th


CLICK HERE TO ORDER THE CAB FORWARD
CLICK HERE TO ORDER THE P70C COACHES

CLICK HERE TO ORDER THE 6,000 TANKER CARS

Denver, Front Range & Rocky Mountain Railroad

Here is your first view of my freelanced DFR&RMRR track plan for the main level.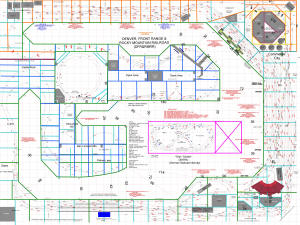 This level is 38" above the floor and represents Denver and Union Station, the yard area's north of the station, as well as Coors Brewery in Golden, CO and the Moffat Road to the Moffat Tunnel helix to the upper level west of the Continental Divide as well as the helix down to the Cheyenne and Kansas City staging on the lower level north of the northern yard area and to the south of Denver the Joint Line to Palmer Lake.

The main level also features a future N Scale freelanced European Layout over the stairwell entry area.

The green, blue, teal and pink lines are the estimated pre construction frame work locations
Layout Stats:

Room Size 30' x 40' (1,200sf) No windows or columns.
Background painted on sheet rock
Three Levels:
Lower Level 24" (staging below Coors)
Main Level 38" to 42"
Upper Level 54" to 60"
Control System: Digitrax DCC (to be run via computer control)
Track: Atlas Flex and Sectional, Peco and
Walthers Shinohara Turnouts
Minimum Radius 24" (Upper Level Mine)
Minimum Radius 3O"

More to come!
---
08/30/20

No Update Last Week
Sorry for the lack of News and Update last week. I had friends in from out of town for the week so there was no time to create the email.

Another Kind Comment

4 Star Review:
Great selection and excellent customer service. Emails are answered promptly and orders are fulfilled quickly.
Google Review
J Lilly

Busy Week At BRH!
Last week was busy at BRH with Ed finishing up the inventory in the front of the retail store and along with a lot of back orders arriving that have been shipped with more coming in each day.

Also, I had some friendss come in from Maryland during the week for a visit so I did take some time in the afternoons to visit with them.

All in all all orders that arrived from the wholesalers shipped if all shippable items in each order where in stock to ship the orders to you.

This past Friday late in the day more of the Walthers Steel Mill series buildings have arrived. This shipment will still have to be checked in and sorted but should leave BRH by the end of next week barring an issues.

Sales where good this past week though a bit slow despite the Labor Day Sale with All In Stock Items on sale.

Also, for the next couple of months I will be back working alone as Ed will be out for a least 3 months due to ankle surgery. He should be back for the Holiday Season.

Low Inventories
It seems that, as I predicated several months ago, model railroad inventories are dwindling at the warehouses and with the manufacturers due to Covid-19 delays. Hopefully this will resolve itself before the Holiday Season.
So, if you need something that is currently not in stock, we recommend doing the advance reservation or back order to ensure you get what you need.

For example, a lot of the Peco items that arrived did not go into inventory, they went to filling back orders so the Peco track availability is a little thin again. Use the back order process to get what you need. They are not having production issues, the delay is due to timing and they are catching up with shipping. In the UK, where Peco is made, the government ok'd everyone to go back to work! So this will help.

I've Been Working On My Railroad

Since 2010 I have been working on my new layout the
Denver, Front Range and Rocky Mountain Railroad(TM) (DFR&RMRR(TM)).

This new layout replaces my 30' x 40' N scale European Layout that I was constructing. Due to lack of product availability back in the 2008-2010 it was going to be hard to fill the 1200sf room. So in 2010 I decided to change to HO scale and model Denver where I lived for some 15 years back in the 80's and 90's before moving to Greenville, SC where I built an outbuilding for my new layouts.

The 'train building' has no windows except two venting skylights and no columns! You walk up to the second floor train room from the garage and workshop first floor and enter in the middle of the space.

The layout features Denver's Union Station and to the north the Northern Yards leading to the Moffat Road to Moffat Tunnel East and West Portals, Cheyenne to the north and Kansas City to the East via lower level staging. There is a 30ft long version of the Coors Brewery in Golden as well. South from Denver there is the Joint Line to Palmer Lake. All on the main and lower levels. Moffat Tunnel is the connection point to the upper level via a 7ft wide helix. Exiting the West Portal there will be a representation of Winter Park Ski Resort and the Continental Divide with the railroad along Colorado River to Dotsero. At Dotsero the railroad splits to go either west to Glenwood Canyon and the upper level staging that represents Salt Lake City or goes Southeast through Royal Gorge to eventually reconnect with the Joint Line.

This is a massive project that got slowed down for 7 years due to my involvement as Chairman and General Manager of the Miniature World of Trains(TM) starting in 2010. I still hope to have that project back up and functional with Phase I by Christmas 2021 since we can not open this year due to Covid-19.

So with a lot of free time away from MWOT(TM), so I can work of the DFR&RMRR(TM).

As time permits I will share some images of what I am up to. It takes time as I am the only one working on this 1,200sf layout. Sometimes the going is slow.

Anyway, look for updates as time permits for the DFR&RMRR(TM)

Upcoming Order Deadlines

August 31: Intermountain Preorders
August 31: Broadway Limited Preorders
August 31: Bluford Shops Preorders
August 31: Micro-Trains Preorders
August 31: Walthers Preorders
September 15: Bowser Preorders
September 15: Rapido Trains Preorders

Atlas Makes New Products Announcements for Fall

Atlas has announced new Atlas HO and N; Trainman(R) HO and N; and AtlasO(R) O/O-27 Scale products for early fall. New HO products include the all-new Canadian Slab-Side Covered Hopper and new road names and road numbers on the popular GE U33B and U36Bdiesels. New N Scale models include new schemes on the popular Trainman EMD GP15-1 locomotive and new schemes for the Atlas PS-1 40' Boxcars, PS-4000 Covered Hoppers and Cushion Coil Cars.
O Scale modelers will love the new 40' Reefer Container as well as Trainman Bay Window Cabooses. All of these models will be in big demand as traditional modeling season approaches, so reserve now.
---
---
THANKS FOR THE SUPPORT!