NEWS AND UPDATES

01/11/20

Amhearst Model Train show

For those of you that are familiar with the BIG train show in Springfield, MA on Saturday January 25th
and Sunday January 26th I will be attending that show on Saturday only all day.
I will wondering around the venue's and spending time with the manufacturers that are attending.

I will be wearing my navy blue Blue Ridge Hobbies T-Shirt with the BRH logo on the back. I will be easy to find!
If you are attending the show and you see me, catch up with me so we can meet!

Blue Ridge Hobbies retail store and shipping will be closed on Friday 01/24/20 so I can catch my flight up to Boston for some afternoon meetings I have planned and then attend the show on Saturday! See you there!

Pre Order Deadlines

January 22: Atlas Preorders
January 31: Walthers Preorders
February 10: Rapido Preorders

WalthersMainline HO Scale EMD SD50s

Perfect for modeler's of the 1980s-2000s mainline locomotive rosters, WalthersMainline EMD SD50s feature new HT-C trucks, improved body details and the smooth-running WalthersProto mechanism. Over 400 SD50s were built for a variety of railroads, so these EMD SD50s should prove extremely popular with modelers looking to bolster your
fleets of EMD SD60s, GEVOs and other road diesels. Limited- run EMD SD50s are available with or without ESU(R) sound and DCC. Some road numbers are sold out and others are in short supply - order now to get the road names you want!

TO ORDER




HO and N Scale Announcements from Classic Metal Works Include New N Scale Tooling

Classic Metal Works has announced new vehicles in HO and N Scales. HO releases include Coca-Cola branded trucks, a 1960 Ford Pickup hauling a small camper trailer and 1957 gasoline tankers. The big news for N Scale consumers is the newly tooled 1974 Buick Estate Station Wagon. Another change for the N Scale products is new releases are packaged individually - no more two-packs. With all of the pre-1980s diesels available in HO and N Scales these
late 1950s to 1970s models are great for modelers of the era.
Check out the new releases and preorder now for May delivery

TO SEE ALL OF THE CLASSIC METAL WORKS PRODUCTS




LGB G Scale Arrivals Include Popular Coca-Cola Collectible Cars

LGB has delivered a variety of G Scale models including more cars for the popular Coca-Cola collector series. New Coke arrivals include the Wood-Frame Tank Car and the Drovers Caboose. Other new arrivals include the limited-run Rhaetian Railroad RhB 702 Class Ge 6/6 II Electric with sound and MZS-DCC decorated for the 60th Anniversary of the widely modeled narrow gauge line, as well as a variety of European freight cars.
All of these models are limited run, so order now.

TO SEE ALL OF THE LGB PRODUCTS


---

01/04/20


Shipping To and From BRH

In bound shipping to BRH is back on track so there should be no further delays in getting your orders to you in a timely manner!. At this point there are no weather delays that we are aware of.

Walthers Flyer Download Issues

On line links to the Walthers Flyers that they have supplied BRH around the 20th of each month have had some issues with on line security certificates. I had brought this to the attention of Walthers but it has taken some time to get them to resolve the issue. While clicking through the error messages coming from Google Chrome, Firefox and IE would not cause any issues on your devices, it was a real PITA! As of yesterday this finally addressed the issues and they seem to have fixed them.

Upcoming Pre Order Deadlines

January 10: Bowser Preorders
January 22: Atlas Preorders
January 31: Walthers Preorders
February 10: Rapido Preorders

Plunge into Modeling Season

With the holidays just a fun, fresh memory now is the time for you to hunker down into their winter modeling routines. Large projects, layout scenery, long structure and rolling stock projects and plenty of detailing projects are all in the mix. For you, it's the perfect time get workbench supplies like scratch building supplies, detail parts and paints. Larger items like structure kits, track and freight cars are also in the mix depending on their projects. Make sure to get a Walthers 2020 HO-N-Z Reference Book into your hands now only $12.98 each!.

TO ORDER




Bachmann New Arrivals Include Spectrum HO and N Steam Locos

Build in the new year with new Bachmann products. Along with many new freight cars and standard line products Bachmann has delivered some notable steam locomotives. The Spectrum HO Scale Baldwin 2-10-0 Russian Decapod is based on prototypes built for Russia in 1917 but delivered to U.S. railroads because of the Bolshevik Revolution in 1917. Over 100 found homes with American railroads. This detailed model comes equipped with a TCS WOWSound
and DCC decoder complete with 16-bit sound and a Keep-Alivedevice for smooth performance even over small dead spots on your track. In N Scale a new release of the popular Class EM-1 2-8-8-4 locomotives with Econami sound and DCC are available now! These highly detailed large steam locomotives are perfect for
modelers of the B&O in late-steam era. All of these releases are selling fast, so order now for best selection.

See The Entire Bachmann Locomotive Line




Herpa North American HO Scale Trucks and Trailers Announced

Herpa has announced a variety of new trucks in HO Scale. You will love the layout-ready models because they can add realism to your layouts in minutes. New vehicles include Kenworth and Peterbilt tractors, lowboy trailers and more. Order now for best selection.

See The Entire Herpa Line


New Noch Arrivals Include Scenery Staples

You will love Noch scenery products as they are a great addition to any model reailraod. New arrivals include HO and N scenery details plus plenty of new trees and plant kits.
See The Entire Noch Line


Don't Forget This Weeks Sale!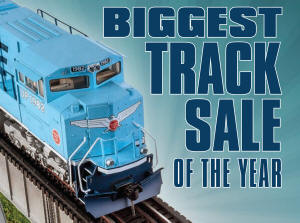 Click On The Image For More Info

2019 Year In Review

I am currently working on the 2019 BRH Year In Review that will feature the highs and lows but the manufacturers highs and lows as well. Look for this email coming soon!
---
12/26/19

Fedex Shipping Back On Track

Shipments from Fedex are back on track with our next delivery expected, as planned with the holiday closure or BRH shipping and receiving and the closure of Fedex early Christmas Eve, Christmas Ever and New Years day total closure, our next delivery will be on 01/02/20.
New BRH Retail Store Hours For 2020

January 1st until October 31st
10am-2:00pm Wednesday, Thursday and Friday
Tuesday and Saturday By Appointment
Sunday and Monday Closed
November 1st until December 31st
11am-4:00pm Tuesday, Wednesday, Thursday and Friday
Saturday, Sunday and Monday By Appointment Only

Visit the store before or after hours or on closed days by appointment.
There is a non refundable fee of $30.00 to do this, but that $30.00 goes towards any purchases
that you make at the store at the time of the appointment.

Make an appointment by emailing contactus@blueridgehobbies.com
or call 864 255 4671 during our normal business hours. Voicemails are not accepted.
---
12/11/19 7am
FEDEX SHIPPING DEBACLE CONTINUES
As soon as we are caught up, Fedex has again created a mess with the improper routing of trailers coming to Greenville.

For those of you with orders from over the weekend up until Monday 12/09/19 6am, the shipment with your order in it was routed in correctly on Tuesday to Edision NJ. It is currently on it way down to Charlotte. Expected arrival was yesterday, Wednesday, however we most likely will not see this group of products to complete you order until Friday afternoon at the earliest!

Orders from Monday 6am until Tuesday 6am seem to be tracking correctly and we expect, at this point, to receive this group of orders around noon today but that is not guaranteed.

BRH has been in business for almost 16 years now and we have never had this many issues with Fedex before. What a mess!

---
12/10/19 10am

As of this update all 'lost' packages have been received and all customer orders have been shipped.

Currently, Fedex is about one day behind the normal shipping schedule as of this update.
12/08/19
FEDEX SHIPPING DEBACLE
As of this news update I will be picking up what is available from the list of missing / held up shipments from Fedex Ground tomorrow at 9am. I will be working as fast as I can to process the orders for shipment through Monday and Tuesday. Hopefully, there will be no more issues from Fedex.


Upcoming Preorder Deadlines
December 31: Intermountain Preorders
January 10: Bowser Preorders


Bowser Announces New HO GE U25B Schemes and Rolling Stock
Bowser has announced new schemes and variations on its popular HO Scale GE U25B diesels. Based on 1960s-era road diesels, these units have road name-specific details and accurate decorations. They're available with or without LokSound and DCC decoders. Newrolling stock schemes and road numbers for ready-to-run PRR Class
GS Gondolas and Class F30a Flatcars are also coming. Make sure to preorder yours now for delivery in 2020.

TO ORDER

Atlas Makes HO, N and O New Product Announcements
Plenty of new Atlas, Trainman and Atlas O products have been announced by Atlas. HO Scale modelers will love the new road names and road numbers on GE B23-7 diesels and rolling stock. All-new HO Scale Searchlight Signals have also been announced for the Atlas Signal System. In N Scale an all-new EMD GP38-2 Phase II has been announced with and without sound and DCC along with new schemes on Atlas and Trainman rolling stock and vehicles. O
Scale modelers can celebrate the return of Troop Cars and Troop Car Conversions with new schemes and road numbers as well as 1/43 Scale Cararama vehicles. Finally, new HO, N and O 3-D-printed
details will be available soon. Check out the links below and preorder now!

TO ORDER ATLAS HO

TO ORDER ATLAS N

TO ORDER ATLAS TRAINMAN HO

TO ORDER ATLAS TRAINMAN N

TO ORDER ATLAS O

Celebrate the Holidays with Broadway Limited Christmas 4-6-2 Steam Locomotives
Just arrived and selling fast are new Paragon3 HO USRA 4-6-2 Heavy and Light Pacific steam locomotives. Dressed in a classic Christmas motif these new locos will look great running 'round the tree or through Christmas Village scenes. Preorders were
strong for these models and we still have a handful left. As with all Paragon3 locos, they're designed to work with the Rolling Thunder(TM) layout subwoofer system. They're available now for the holiday gift-giving season! Don't miss out!

TO ORDER

New HO, N and O Die Cast Vehicles from William Tell
New supplier William Tell International is ready to boost vehicle sales in your store. Making great additions to North American layouts and international vehicle collections the latest arrivals include fast-selling (already!) fire apparatus and concession trailers. Order now for best selection!

TO ORDER

Cordless Soldering Made Easy by Iso-Tip
For modelers working on metal projects or layout wiring in hard-to- reach places under the layout, Iso-Tip cordless soldering irons are great solutions wherever cords are a hassle. Powered by either
rechargeable batteries or by butane, these affordable soldering irons are supported with a full line of soldering tips and replacements.
Butane-powered soldering irons can also be used for flame soldering applications. Soldering irons are available individually or in complete sets, such as the super-popular #807-7700 (in stock now), which makes a
great gift. Check out the entire line and order now

TO ORDER