NEWS AND UPDATES

04/04/20

16th Year Online!

Did you know that Blue Ridge Hobbies has had an online presence for 16 years!

That's right! We have been offering discounted model railroad and other hobby items via our online website since April 2005 making this week the start of our 16th year!

There have been many many challenges with the downturn in the economy that started in 2008, manufacturer factory closings that started in 2010 in which that manufacturers have still not fully recovered in my opinion, our best sales years in 2011 and 2012, growing from a 1,200sf retail store to 5,000sf then shrinking to 2,400sf when we could not get enough product to fill the big store and now the current store with only 600sf of retail space since we still can not get enough product to fill a larger store!

The bottom in sales happen in 2015. Each year since 2015 overall sales have increased but have recovered to the 2011-2012 levels. Another factory closing 2 years ago caught several manufacturers again and those companies still have not recovered from that closing.

So, in my opinion, the state of the hobby industry is weak at best. Despite this, BRH has continued to offer great prices and customer service from our database of over 147,000 items. Unfortunately, only about 37,000 items are available on any given day to sell to you! No changes to that situation at this time.

98% of BRH overall sales come from the online orders. The retail store that opened in 2007, still exists, but is not what we envisioned to have 16 years into the BRH existence.

And the Covid-19 situation is effecting both in the retail store and online sales. I think the Covid 19 situation and the world wide shut down of businesses and that effect on incomes has slowed sales down even more then in 2008 with the financial crises.

At this point BRH sales in March where down 19.7% year to year but so far in April we are ahead compared to 2019!
Not sure if this trend will hold through. 2019 vs 2020 first quarter shows a 15.5% decrease in sales. Again the Covid 19 situation seems to be reeking havoc with sales and product availability.

So far, BRH is still operating everyday but I feel a government shutdown is coming here in South Carolina. However, it is my intent to keep shipping on line orders as long as the wholesalers and manufacturers keep shipping and Fedex and the USPS keep delivering!

I have no plans to close at this point since sales and product availability in 2015 where worse then the current situation. So keep on ordering and I will keep on shipping items at discount prices to you everyday.
Thanks for the support over the last 16 years!

16th Anniversary Sale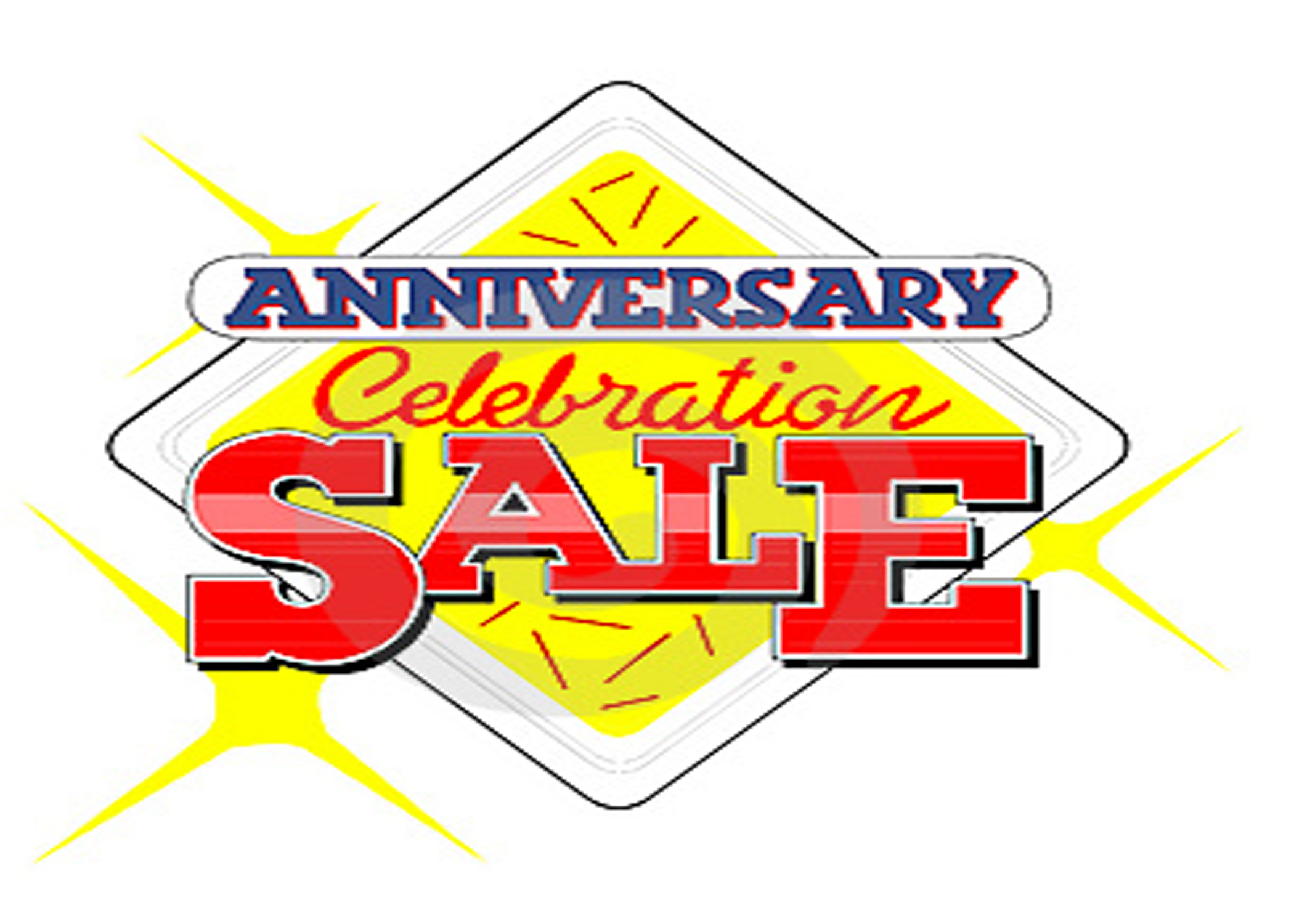 We celebrating our 16th Anniversary with a huge sale.
ALL IN STOCK ITEMS ARE ON SALE!

CLICK ON THE SALE LOGO TO VIEW THE SALE INFORMATION!

COVID-19 Operation Updates

As of this email our wholesalers are still shipping product to BRH to fill your orders! So BRH will be shipping as long as we receive product and Fedex and the USPS deliver and pickup from BRH, you will get your orders filled!

Friday, Woodland Scenics announced it is closing operations there until further notice. This means that the wholesalers will only have to work with stock on hand until that runs out!

So think ahead and order today for future short term and long term projects you may have just in case!

Upcoming Pre Orders

April 20: Rapido Preorders
May 31: Walthers Preorders

WalthersProto HO 50' CC&F Bulkhead Flatcars Now Shipping

Used all over the continent since the late 1970s, 50' Canadian Car and Foundry Bulkhead Flatcars are favorites for hauling lumber from sawmills to building supply businesses. These highly- detailed cars feature applied separate details like grab irons, metal wheels and ProtoMax(TM) metal knuckle couplers. Make sure to order
the SceneMaster(TM) Pulpwood or Wrapped Lumber Loads as well.

Order these popular cars now!

TO ORDER CC&F Flatcars:




TO ORDER CC&F Flatcar Loads:


New WalthersMainline Arrivals Keep Freight Trains Growing On HO Layouts

If your looking for 1960s-2000s era freight cars you will love the new 57' Mechanical Reefer. Based on cars built by Pacific Car and Foundry (PC&F) for Pacific Fruit Express and several railroads from 1967 to 1968, these colorful cars were regularly seen in trains hauling perishables into the early 2000s. They go with the Cornerstone(R) Modern
Cold Storage Warehouse #933-4069 and similar structures. Cars are available in four road numbers per road name. For many of you looking for additions to grow your grain train consists 60' NSC 5150 Cubic Foot 3-Bay Covered Hoppers are all the rage! The first release of these popular cars was an instant sell-out and this release is well on the way to selling out, with many schemes and road numbers in very short supply. With detailed injection-molded bodies, fine molded details that hold up to handling during operation, metal wheels, ProtoMAX metal knuckle couplers
and great decoration, modelers love WalthersMainline freight cars. Order these new arrivals now for best selection!
TO ORDER




Two New Cornerstone(R) Kits Arrive for HO and N Scale Modelers

With many of you busily working on your model railroads, these two new kits will give them more projects to keep you busy. The new HO Scale Modern Short Span Concrete Railroad Bridge is perfect for layouts set from the 1960s to the present. It's designed for easy construction and installation in new orexisting scenes and includes parts for four individual spans. Modelers can lengthen it by combining multiple kits. The latest N Scale arrival is the Modern Shopping Center I, a perfect addition to 1980s and later commercial scenes. The kit features three storefronts in one modern brick building and includes signs for a variety of businesses. These kits are shipping now and
they're selling fast, so order now!
TO ORDER WALTHERS CORNERSTONE




Kato Sound and DCC N Scale Locomotives Rolling to Stores Now!

Several Kato N Scale locomotives equipped with DCC only or with sound and DCC are now shipping to dealers. Models include EMD E8s for the Broadway Limited sets as well as BNSF SD70ACe diesels.
Lunde Studios Delivers Two New HO Kits

Perfect for those of you who want a variety of structures in your city scenes, two new resin kits from Lunde Studios are based on typical brick commercial buildings. Sacco's Department Store is an Edwardian brick building with decorative cornices and triple windows designed for placement on a street corner. Vic's Variety is a center-block brick storefront structure styled somewhere between Victorian and Edwardian eras. Both are ideal for scenesfrom the steam era to the present. They're in stock, so order now!
Miller Engineering Announces Rosie the Riveter Animated Neon Billboards

During WWII "We Can Do It" posters featuring Rosie the Riveter were everywhere. Now this iconic image is available as an animated neon sign in several sizes for N through O Scales. These easy-to-assemble sign kits include everything necessary for you to add them to your layout.

TO ORDER MILLER ENGINEERING "We Can Do It"


---
04/01/20
Our Competition Is Closed

As of this update it seems that due to the Covid-19 Pandemic, our main online competition in New York Trainland / Trainworld, MB Klein / Model Train Stuff in Baltimore, Charles Ro in Boston, and Caboose / Caboose Hobbies in Denver also regionally Train Master Models and Legacy Station in Atlanta, Little Choo Choo Shop in Spencer and Factory Direct Trains In Asheville to name a few, are now closed because of shelter in place orders by each state.

BRH is still operating with both in store sales and shipping of each each day. So your orders will be filled as long as stock at the warehouses and in the retail store are still available.

If you plan on visiting the retail store, please call ahead as I am adjusting the retail store hours as needed due to product delivery delays by Fedex.
---
03/28/20

LAST 4 DAYS - DEAL OF THE MONTH!





ALL IN STOCK WALTHERS MAINLINE LOCOMOTIVES ARE ON SALE UNTIL 03/31/20!
DEEP DISCOUNTS ON THESE GREAT LOCOMOTIVES!

TO ORDER




COVID-19 Operation Updates

Due to the very disjointed delivery schedule of shipments coming in from Fedex, BRH will be adjusting its retail store schedule. While the plan is to still be open Wednesday, Thursday and Friday's from 10am to 2pm, we will have to change this schedule on a daily basis to adjust to the current shipment receiving days. These changes will occur on a daily basis. For example, yesterday there was no delivery. The Friday delivery will occur on Monday which is normally a closed day for BRH but I will be there to receive and process your shipments as quickly as possible.

With that said, it is suggested that you call the retail store first before coming to the store to make sure I will be there so you do not waste a trip!

Over the last 2 weeks we have had a total of 5 customers in the retail store which is okay. The websites online sales have been strong so the lack of customers coming to the store is a good thing under the current circumstances.

Now let me update you all on the latest info from the manufacturers and wholesalers.

I have been receiving calls and emails about advance reservations that are due within the next 60 days. All I can tell you is that per the wholesalers we work with everything is still on track. But I feel that these due dates will pass due to the delays in shipments coming in from China and the Far East and Europe. Please be patient, these order should be filled ASAP since, as of this update, our two main wholesalers are open and operating with full warehouse staffing and they will be awaiting the product.

Early next week I will be receiving a large quantity advance reservations and back orders of products, mostly locomotives, from Atlas, Walthers, Rapido and Intermountain.

As always, I process the current orders first then sort and ship the back order / advance reservations. So please be patient.

Lionel announced Friday their corporate office will close but the warehouse will continue to ship.

No changes at Walthers (Milwaukee Warehouse) our main wholesaler or Emery (Easton Warehouse) at this time as the are still shipping as of this update.
---
03/22/20

COVID-19 Operation Updates

As of 9am EDT today Fedex states: Due to the crucial role we play in moving supply chains and delivering critical relief, FedEx is considered an essential business and may continue to operate under state of emergency and shelter in place orders recently issued in the U.S.

We have been and will continue to operate to and from impacted areas as local conditions and restrictions allow.

According the Walthers, our main wholesaler: As of right now, we are doing our best to operate 'business as usual' - from a safe distance from each other, of course. We have closed our local Showroom*, we are no longer accepting outside visitors, we have some team members working from home, we are adjusting processes that may require physical proximity, and we have transitioned most of our in person meetings to conference or web calls. The team is staying home if they are not feeling well and where applicable, navigating a new world of homeschooling their children.

We will keep you posted on our operations over here .....

While we are working at close to 'normal' speed over here, we are aware of shipping delays. Please be patient with us and with each other as we do our best to get you what you need to stay occupied during this challenging time.

Bowser states: By order of the Governor of the state of Pennsylvania; All non essential non life support business has been ordered closed. Our offices will be closed until further notice.

Kato states: We have received notice today that starting on 3/21/2020 and ending on 4/7/2020, the state of Illinois will be implementing a "Stay at Home" policy for all nonessential businesses.

Unfortunately this means that Kato USA will be unstaffed for the duration of this period.

Emery Distributors, our secondary warehouse, has taken at step back: It looks like I jumped the gun on announcing our closing (Thursday). Upon further review of the information provided by governor Wolf warehouses of miscellaneous durable goods can stay open. Based on this we will remain open but most likely with reduced staff.
I apologize for yesterday's misleading e-mail. I will keep updating you as things evolve.

Also, the State of New Jersey also has a shelter in place order now which should effect Atlas and MRC but we have not received any world from them at this point.
--------------------------------------------------------------------------

As for BRH operations as of this email, I am operating as normally as I can. As long as Fedex, the USPS and UPS delivers and pickup from BRH, I will continue to operate. The retail store will still be open per the normal schedule. However, this week, we only had a total of 4 customers come to the retail store to pickup or place orders. Most orders are still online which is as it should be. Please call ahead before making a trip to the store just to make sure nothing has changed in that regard.

Some orders a about a day or two behind in processing due to inbound shipping delays with some orders split in route to BRH and arriving on separate days currently.

Pre Order Deadlines

March 30: Rapido Preorders
March 31: Marklin Preorders
March 31: Walthers Preorders
April 20: Rapido Preorders

---
03/19/20

COVID-19 Operational Update

As of 8pm we just received this information from our Easton PA Warehouse.

Today the governor ordered all non life sustaining business to close their physical location as of 8:00 PM 3/19/20. Enforcement begins at 8:00 PM on 3/20/20

While you can still order items from this warehouse location orders received after 6am today, Thursday 03/19/20 will not ship to us until further notice.

Our main wholesaler, Walthers is operating normally as of this email.

Fedex and USPS are operating normally at this point though a bit slower.

Order processing is still happening and are shipping to our customers with very minor delays!

Looking forward to an order from you!
---