NEWS AND UPDATES
07/25/21
Upcoming Pre Orders

July 27: AtlasO Preorders
July 31: Walthers Preorders
August 31: WalthersProto PRR Name Train Preorders

Walthers Updates

From Walthers 07/20/21:
The new WalthersTrack line has proven very popular with HO modelers! We've been closely monitoring the ongoing issues with production and shipping to
keep you and your customers informed on availability. This has resulted in unforeseen delays for the new Code 83 #8 Turnouts (#948-83019 and 83020),
both of which are now expected in December 2021.

Delivery of #4, 5, and 6 turnouts, as well as Code 83 Flex track (all currently out of stock) is expected in August or September. Thank you for
your support and patience!

From Walthers 07/23/21:
Thanks for your efforts to make the WalthersProto 1960s Combined Super Chief/El Capitan a complete success! After delivery of the gray Baggage Car (#920-9681) included in the Denver Connection (#920-827) deluxe edition 3-pack, we discovered a minor error with the packaging. The factory-printed car number, #3817, is correct, however the end label shows car #3735. While some of these cars were shipped before this was discovered, if you've already received yours, no further action is needed. We're delaying shipment of the remaining cars here in Milwaukee for new labels, but they'll be ready to ship shortly. Thanks for your patience.

New SceneMaster Container Crane

Here's a new HO kit that will appeal to contemporary model railroaders and vehicle collectors alike! Based on construction
cranes equipped with lifting equipment to handle containers, the prototypes are often found at smaller port facilities, making
them an ideal size for most layouts. Highly detailed plastic parts molded in four colors and complete assembly and rigging
instructions make this a fun project and a great addition to your inventory. In stock for immediate delivery, order yours today!

CLICK HERE TO ORDER THE CONTAINER CRANE

On Going Sale

Last 3 days!

Santa will be returning to the North Pole Tuesday at 9pm for Christmas preparations.

As he does every year he has been holding his big summer sale at BRH. but time is running out!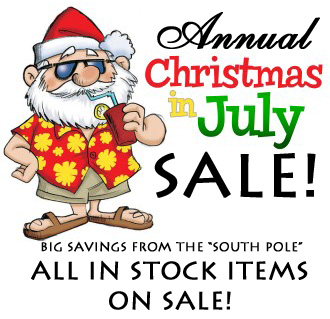 Click On The Banner To View The Sale Info!
---
07/18/21

June Sales

As expected, June sales where down from 2020 when everyone was home during the lockdowns.

June 2020 vs. 2021 over all sales down a whopping 58% year to year. The past 90 days BRH has seen new customers drop by 33% but returning customers are up 20%. Receipt totals are down 26% but average daily transactions are up 30% and items purchased was up 47%.

This means that people are ordering but the big ticket items are not there for sale. This is not a BRH issue it is a manufacturing issue and BRH does not foresee it getting any better in the short term as we have been stating in previous News and Updates.

New Office Computer And Telephone Systems

BRH has added a new phone system to the office and the retail store and a new computers for the office. The computers still have to have the software added to them and those upgrades and reinstalls are in process.

Retail Store Inventory

Just the structure kits and rolling stock inventories still need to be counted! Hopefully in the next two weeks this will be completed and then the BIG online retail store inventory reduction sale will begin!

On Going Sale

Santa has arrived from the South Pole on his way back to the North Pole for Christmas preparations.

As he does every year he holds his big summer sale at BRH.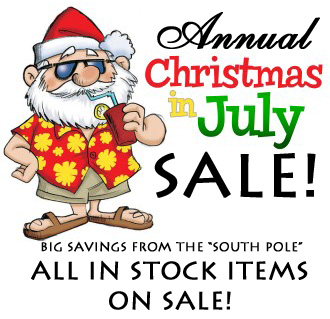 Click On The Banner To View The Sale Info!

Upcoming Pre Orders

July 27: AtlasO Preorders
July 31: Walthers Preorders
August 31: WalthersProto PRR Name Train Preorders

Not Many Product Announcements

Right now there are not many product announcements coming from the manufacturers. Prices continue to go up so order today to get the best price. Pre order / advance reservations may be needed so think about a year ahead for what you want on your layout. The days of just stopping into the retail or jumping online to get what you need are long gone now. Please be patient when ordering and remember this is all Covid 19 related!
---
07/01/21

Fall Modeling Season

Think ahead about your fall and winter projects for you model railroad! Product shortages are going to get worse and with all of the manufacturing and shipping issues product availability is going to get a little sketchy as we approach the cooler weather.

So, best to order now what is currently in stock or get that advance reservations for items that you will not be able to wait on like track and scenery items.

Order today what you think you will need!

July 4th Schedule
As of this update Blue Ridge Hobbies will be closed Friday July 2nd through Monday July 5th.
USPS, Fedex and UPS closed July 5th
Milwaukee and Easton Warehouses closed July 5th
Atlas closed July 2nd through July12th

Upcoming Order Deadlines

Order deadlines approaching soon:
July 15: Broadway Limited Preorders
July 15: Atlas Trainman/AtlasO Preorders
July 27: AtlasO Preorders
July 31: Walthers Preorders

Rapido Trains Announces More New HO and N Models

New HO Scale and N Scale freight cars, and more HO buses are coming down the rails from Rapido Trains. New HO Scale
announcements include the USRA Single-Sheathed Wood Boxcar, available in 6-packs and individually and the deluxe lighted
version of the 1959-1986 GM New Look-Fishbowl Bus decorated for Edmonton, Alberta. The USRA Boxcars will feature over a dozen
road names and cars will have road name-specific doors. In N Scale the Class B-100-40 Plug-Door Boxcar, notably used by SP and
Amtrak (express service), has been announced. These cars are also available in 6-packs and 3-packs, depending on the scheme. The HO
Scale models were great sellers, so make sure N Scale modelers know they're coming. The cars are now open for preorders - make
sure to reserve yours now!
CLICK HERE TO VIEW ALL OF THE RAPIDO PRODUCTS
On Going BRH Sales

Click on the sale logo to access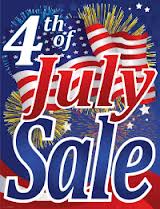 ALL IN STOCK ITEMS ON SALE!
---
06/20/21
HAPPY FATHERS DAY

Where's The Product That I Ordered

Some of you have been asking about your back orders and advance reservations so I decided to give an update as to the biggest offenders for taking a long time getting the products you have ordered to you. Covid aside, here is the list manufacturers with long long wait times.

Con-Cor (we are no longer taking orders for this manufacturer)
Atlas
Bowser
Intermountain Railway
Lionel
NJ International
Merten
Accurail
Peco is trying to catch up and we do not have much on back order right now however the UK has again extended the Covid shutdown another 30 days.

Please be patient!

Price Increases Starting To Show Up

As I stated in recent News and Updates, model railroading prices (along with everything else in the world today) are going to go up. Case in point, Woodland Scenics is having a price increase effective 7/1/21. Not all items are changing, the attached list is just the items going up in price - most are significant. If you want to beat the price increase place an order now. Woodland is not back ordering at the current price so orders will be fill and kill. Price list is attached showing both the old and new price as well as the percentage increase.

Also on Thursday Atlas' recent notice advising a temporary shipping container surcharge on Dealer/Distributor invoicing has been rescinded.

In light of recent Atlas supplier price increases caused by rising raw material costs, labor, and exchange rates, as well as the increase in shipping container costs, the following pricing policy is being established for N, HO and O track and accessories.

Atlas will increase All Scales Track & Accessory prices an average of 10%, effective July 2021.

Atlas stated that they will be canceling all distributor and dealer back orders on track and accessories and giving only one opportunity to order at current prices for in-stock products. Atlas reserves the right to adjust or cancel order quantities based on availability. All orders must be received by 12:00 noon on Friday, July 2nd, no exceptions.

Atlas will begin shipping orders as soon as possible. Once shipments are completed in July, any open track and accessory orders will be cancelled and new dealer/distributor orders will need to be placed and confirmed by Atlas.

BRH has contacted our wholesalers about this Atlas update and BRH is awaiting a response as to how the track and accessory cancellations will be handeled. As of this update Atlas rolling stock, locomotives and vehicles are not affected to our knowledge.

We are getting price increase notices from many suppliers, we'll due our best to keep you updated.

Milwaukee Warehouse Power Outage
It seems that over night Thursday some bad storms rumbled through Milwaukee that knocked out the power and internet at the warehouse around 4am according to our sales rep there.

With date, the normal 6am order from BRH customer orders from 6am Tuesday through 6am Friday could not be transmitted.
BLI MAP Policy Update

BRH had several customers email us regarding the new BLI MAP policy.

Here is what they had to say:

I read your latest newsletter about the MAP and I agree, BLI is being obstinate and doesn't seem to care.

The sad thing about this is that BLI gets the same amount regardless of what you sell the product at. Higher selling prices will simply mean reduced volume and less money for BLI. That's basic econ 101. As for wanting to maintain the image of high quality by high prices, that doesn't work either as you mentioned in your newsletter.

MAP pricing kills distributors / shops. I see it all the time with landscaping equipment. Hold your ground and drop em if need be. Keep up the good work!

Owners and enthusiasts like you, especially with your great communication on shipping issues and what's going on in the industry, are what keeps this hobby personal, and out of the hands of Amazon type retailers.

Thanks to all for the kind comments

Upcoming Order Deadlines

Preorders due this week - don't miss out!
June 23: Atlas Preorders
June 24: Broadway Limited Preorders
July 15: Broadway Limited Preorders

On Going BRH Sales

Click on the sale logo to access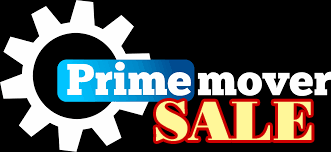 ---
---
THANKS FOR THE SUPPORT!